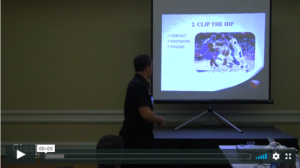 Clinic Video from:
This video was filmed at a PGC/Glazier Basketball Clinic.
The Coach in the video is Sam Allen. Sam is the Coordinator for PGC/Glazier Coaches Clinics, and runs Blue Collar Basketball, focusing on team and individual training and basketball strength and conditioning.
The camera does take a few seconds to follow Coach Allen, but it does show his demonstration after a few seconds.
Whether you use this exact drill or not, I believe it is very important to teach and drill for drivers to get their body on the side of the defender's body ( of course without committing an offensive foul).
If you're interested in reading the video transcription, click here for the Clip and Hip Drill on PGC/Glazier's site.
Clip the Hip Drill