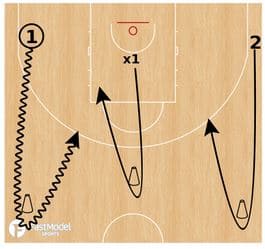 These decision making drills were contributed by Gerard Hillier Director of Coaching & Development at the Southern Peninsula Basketball Association, which is located on the Mornington Peninsula of Australia to the FastModel Sports Basketball Plays and Drills Library.
You can also find out more about FastModel Play Diagramming software by clicking this link: FastDraw
Whether you run Dribble Drive Motion, or not, your players are still forced to make decisions and hopefully these drills can get you thinking about similar drills that you can use that fit your system of play.
Here is what Coach Hillier said about the drills:
The importance of being able to create a "split" (where two defenders commit to the ball carrier) is paramount within our system, and just as important is the ability to find the open player (from where the 2nd defender came from) for a high percentage & open scoring option.
We encourage questions like "what was your thought process on that decision?" & "what did you see that triggered that decision?"
2 v 1 Decision Making
O1's primary responsibility is to "finish at the rim" (basket)
X1's responsibility is to meet O1 as early as possible and force them out of the paint
O2's responsibility is to create a weak-side shooting option (3pt shot)
If O1 cannot score in the paint, they must kick out to O2 for a catch n shoot finish (3pt shot)
Drill starts on the 1st dribble from O1
You can move the cones to wherever suits your particular teams' needs
O1 MUST get two feet in the paint prior to kicking out to O2, this creates an aggressive mindset & attack mentality
2 v 2 Decision Making
O1's primary responsibility is to "finish at the rim" (basket)
X1's responsibility is to meet O1 as early as possible and force them out of the paint
X2's responsibility is to cover split-line
O2's responsibility is to create a weak-side shooting option (3pt shot)
If O1 cannot score in the paint, they must kick out to O2 for a catch n shoot finish (3pt shot)
Drill starts on the 1st dribble from O1
You can move the witches hats/cones to wherever suits your particular teams' needs
O1 MUST get two feet in the paint prior to kicking out to O2, this creates an aggressive mindset & attack mentality