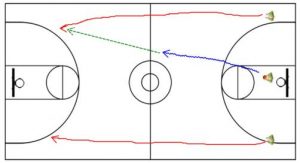 3 Trips – 3 Buckets
I've always been a big believer that as a basketball coach, you should try whenever you can to mix conditioning with developing basketball skills. Not only because it's a more efficient use of time, but because it teaches your players to think and perform well when they're exhausted, which can be a huge advantage in the fourth quarter.
That's why I also try to add some element of pressure, so that there is something on the line (usually more running) if the players fail to complete the drill.
One of my go-to conditioning drills is one I call 3 Trips, 3 Buckets. And it means exactly what it says.
Three players will line up at one end of the court, one under the hoop (player 1), one on the right baseline (player 2) and one on the left baseline (player 3).
This drill can work well taking jumpshots as well, especially, in the drive and kick variatio, but if you want to focus on conditioning, I would just leave it at layups,. as missed shots slow the drill down.
Online-Basketball-Drills.com is a free resource for youth and high school basketball coaches, jam-packed with more than 642 articles and videos covering every element of the game.  Since 2005, we've helped thousands of coaches improve their players' skills, achieve their team's goals. Join our community today and receive 6 free basketball coaching videos from 2-time NBA coach of the year Hubie Brown!