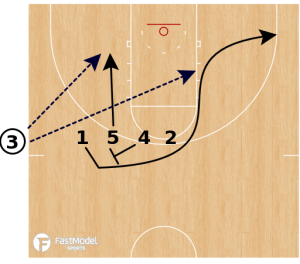 This Sideline inbound play is from the Villanova system.
It was posted to the FastModel Sports Basketball Plays and Drills Library by Tony Miller.
Tony is the assistant men's basketball coach at Bob Jones University.
You can also find out more about FastModel Play Diagramming software by clicking this link: FastDraw
This is what Coach Miller had to say about the play.
The Wildcats ran this SLOB several times during the semifinal matchup vs Kansas.
At the 13:17 in the second half, the inbounder looked to Spellman (5) for a short corner turnaround jumper (seen in Frame 1).
In the first half (14:21), Brunson (1) used the ball screen to set up the fill behind shooter after Spellman's ball screen (Frame 3).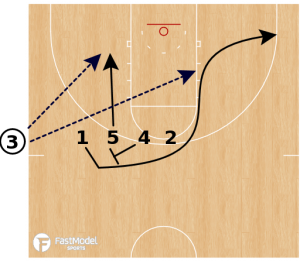 5 dives to short corner.
4 screens for 1 who cuts to basket.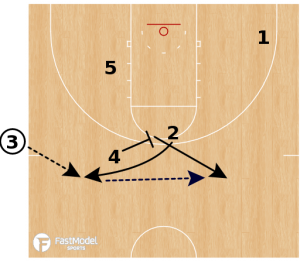 4 screens for 2.
3 passes to 2.
2 passes to 4.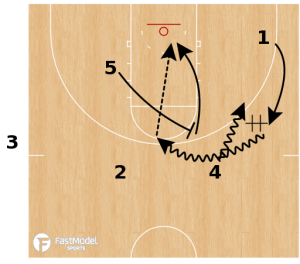 4 runs a dribble hand off with 1.
5 sets ball screen for 1.
1 can hit 5 on roll or pass to 4 on fill-behind.