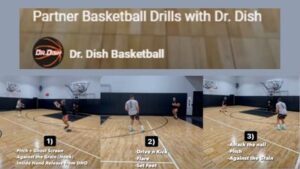 A short video from our friends at Dr. Dish Basketball.
I really like these gamelike shooting drills that players can work on in pairs.
If this were an organized workout with a coach, I would not want the player wearing a hat. Please don't let that detract from this post. The purpose is to give you ideas as to if this type of drill would help your players improve, not to focus on what they are wearing. My guess is that their coach is happy that they are working on their games!
Drill #1 Pitch & Ghost Screen, against the Grain Hook Pass, Inside Hand release from a Dribble Hand Off
Drill #2 Drive & kick with a flare cut and return pass
Drill #3 Attack the nail, kick & pitch, against the grain hook pass.
These are ideas to stimulate your thinking. You probably have different actions that you run. I hope this video inspires you to create some drills that put your actions together. I leave it up to you to put a timing and scoring system with them.
Please make sure your sound is on to see the video.
This drill is hosted on YouTube, so you will need to be on a server that allows you to access YouTube to see the drill.
The video is in the YouTube shorts format so it will look a little different than the YouTube videos that we have posted in the past. The format is narrower than a traditional video.
Click the play arrow to see the drill.
You can click the icon in the lower right corner of the video to watch the video in full screen mode to be able to see it better.