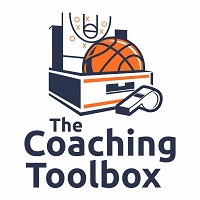 This article on True Shooting Percentage (also known as True Scoring Percentage)  is a follow up to the Effective Field Goal Percentage Post from a few weeks ago.
With it being clear that the most efficient ways to score in order are:
(I would define "efficient" as the highest probability of scoring from each of these opportunities)
Free Throws
At the basket–restricted area in college and pros, same area in high school even if not marked
3 point shot
Midrange two point shot
Yes, you have to play to your strengths,  But if you can't find ways to get to the free throw line, score at the basket either in transition, through driving the ball to the basket, cutting to the basket, or via a low post game, and make a competitive percentage of 3 point shots for the level your team plays, you probably won't win a lot of games.
With shooting 33% from 3 being equal in efficiency to 50% on two point shots, the statistic of overall field goal percentage (combining 2 point shots and 3 point shots) doesn't give us much information to evaluate how well a player performed from a scoring standpoint.
I don't like to use Points per Shot (Field Goal Attempts, not including Free Throw attempts) because it does not distinguish between good and poor free throw shooters. Poor free throw shooters have a negative impact on your offensive efficiency and definitely hurt your chances of winning.
For example:
Player A makes 2 for 2 from the line and scores a total of 12 points on 8 field goal shots, that is a 1.5 points per shot.
Player B makes 2 for 10 from the line and scores 12 points on 8 field goal attempts, he also has a 1.5 points per shot, but missed 8 more free throws.  Player B's performance really wasn't close to that of player A, but they are identical when compared using Points per Shot.
True Shooting Percentage (TS%) is a very effective measure of a player's individual points per shooting possession. It takes into account scoring efficiency by combining three point shots, two point shots, and free throws. It effectively measures a player's scoring productiveness based on opportunities to score.
The battle we face is balancing between obtaining stats that are actually significant and at the same time are easy to calculate. Points per shot is easy to calculate, but does not correlate to an efficient offensive performance. True Shooting Percentage is difficult to calculate, but it is the best way to determine who your most efficient scorers are because it accounts for free throw efficiency as well. TS% is actually more of a scoring efficiency ratio rather than a percentage because it measures points produced compared to the number of possessions that player used to score those points.
The formula for True Scoring Percentage is
TS% = (Points/2) / [FGA + (0.44 * FTA)]  Each of these numbers is included in your post game statistical summary and could easily be put into a spreadsheet.
FGA = Total Field Goal Attempts including 2 point shots and 3 point attempts
FTA = Free Throw Attempts
The formula in words is:
Take the points a player scored and divide it by two and get a number.
Multiply the Free Throw Attempts by .44 and add it to the total field goal attempts (2s and 3s) and get second number.
Divide the first number by the second to calculate true shooting percentage.
The rationale in dividing the points by two is that by doing so, it effectively makes each three point shot made worth 1.5 points.  Dividing by two also makes each two free throws made equal to one two point basket made.
One free throw attempted is basically half a field goal attempt, so initially multiplying the Free Throws Attempted by .5 seems to make sense.  The reason that .44 is used instead is that statistical research has taken into account the old fashioned three point play of a basket and a foul where there is a field goal attempt and a free throw attempt in the same scoring possession.
Here is an example:
Player A makes 2 for 5 on 3 point shots, 3 for 7 on two point shots and 7 for 9 on free throws for a total of 19 points on 10 Field Goal Attempts.
To calculate the TS%, take the total number of points scored (19 points in this example) and divide by 2. Which is 9.5 for "the first number."
Now, for "the second number," take the Free Throw Attempts times .44 which is 9 * .44 or 3.96. Next add that product to the overall Field Goal Attempts (12 for the example). Your second number is 15.96.
For the Ts% divide 9.5 (The first number) by 15.96 (The second number) which yields: .595. That is an outstanding TS%. You will need to do some crunching to see what is good for your team and level of coaching, but .5 or better is usually very good and near .6 is a great offensive game. As a reference, the NBA/ABA lifetime leader is Cedric "Cornbread" Maxwell with a lifetime TS% mark of .6294 for his 11 season NBA career.
I do realize that the stat will be a little off if the player does not have a 3 point play, but I still feel it is a much more accurate assessment to use to determine how efficiently your scorers are performing that Points per Shot or using Two Point Field Goal Percentage, Three Point Field Goal Percentage, or Overall Field Goal Percentage. Our most valuable scorers both get to the line and make their free throws in addition to shooting a high percentage from the field. TS% corrects that flaw in the other metrics.
Individual Points Per Possession
Another way to look at offensive scoring productivity is to consider using individual points per possession.   Most of us look at Offensive and Defensive points per possession as one way to measure team efficiency.  I believe that individual points per possession (or per 100 possessions, however you look at it) is a way to measure a players scoring contribution.
I am not in any way saying that scoring is the only way to measure every player's offensive contribution.   There is absolute contribution in passing, screening, cutting, spacing, offensive rebounding, and sureness with the basketball.  All of those skills are critical, but only serve to create opportunities to score.
What I do believe is that total points scored is not the best way to measure a player's scoring contribution.  For every turnover made and every shot and free throw a player misses, that is taking an opportunity away from someone else to score.  While it is true that you can't score if you don't shoot, it is also true that you won't score enough to win unless your best scorers are getting the most opportunities to score.  This is a way to consider as using as one tool when you make that evaluation.
In place of or in addition to the formula above, consider determining the number of possessions that a player ended for your team as:
The number of shots they took, plus the number of trips (not free throw attemps) to the free throw line, plus the number of turnovers to determine the number of possessions that each player finished.
Take the number of points divided by the number of possessions for each player
In my opinion, a player with a lower than 1.0 ratio is hurting the team unless there is absolutely no one else on the team that has scoring skills.  So, for example, in most instances, even a 29 point game would not be a good performance for the team, if it required 30 possessions to attain.  Something such as 19 shots, 7 trips to the line, and 4 turnovers (or any other combination of 30
No one metric or opinion should be the sole deciding factor of how to play.  It takes a staff and as many meaningful pieces of data as you can get.  These ideas are submitted as ideas to consider using as more pieces of information as you work to develop your and evaluate your offensive system.