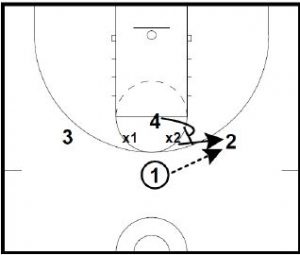 These notes and diagrams On Jim Boeheim's 2-3 Zone defense are a follow up to an earlier post I made about the Syracuses zone.
Here is the link to the original post: Syracuse 2-3 zone
The source of these notes is Coach Mike Neighbors newsletter. Email me if you would like me to pass your email address along to Coach Neighbors to add to his newsletter.
Most teams don't play zone, so it is harder to prepare for in a short time frame.
It is tough for teams to get off a good shot against a zone with 10 seconds left.
2-3 Screening Drill
More teams are setting screens against the zone.
Guards at one end of the floor for this drill.
3 offensive players on the perimeter, 1 in the high post.
Post screens for the guards
Defense fights over the screen if it is a shooter, under the screen if it is a non shooter.
2-3 Short Corner Trap
X5 steps out
X3 doubles with X5
X4 comes across to the block
X2 drops
2-3 Corner Trap
X4 and X5 trap corner
X1 takes away the wing
X5 takes away the block
X3 takes away the midpost
Teams only make high post shot 20% of the time and we are in good rebounding position.
Baseline Inbounds Plays
Forwards can't let the ball go to the corner
Guards take away the high post
Syracuse stays in the zone even when they are down 8 to 10 points.
They will go full court press and try to trap more.
If they are down 15 or more they will look to go man to man
If a team hits a couple of threes against you early, stay with the zone. If a team did that against you and you were playing man to man, you would take timeout and tell them to play better man to man. You wouldn't change your defense.
Zone's impact on Syracuse offense:
Players are in better position for transition game
Guards don't get caught underneath