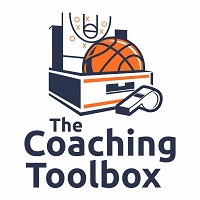 Some thoughts to consider as you work to update your drills book over the summer in preparing for next year.
Submitted by Coach John Kimble
CoachJohnKimble.com
Retired high school and college coach
Follow him on Twitter @CoachJohnKimble
This article was originally written for Winning Hoops
 PHILOSOPHY on DRILLS
by Coach John Kimble
Introduction
Every athletic team has practice to prepare for their games. What takes place in practice can and will make the difference in whether that team will succeed in the game or fail. It is very likely that a large portion of each of these daily practices will be the fundamental drills that I would like to discuss with you. Drills and the way the drills are taught and how they are incorporated in the daily practices will determine whether a coach is a good coach or not and whether the team has a chance to succeed in actual competition or not.
The following is a short composite of a philosophy of drills that has grown from 25 years of not only coaching basketball at the high school and junior college level, but also many years of coaching baseball as well as football. The philosophy has grown from observing college and NBA practices. This is in addition to watching and learning from NBA, college and other high school coaches.
Make your practices as "game-realistic" as possible. Have fundamental drills and breakdown drills incorporated in all phases of the game you are coaching. TEACH at your practices.
Get excited as a coach. Be enthusiastic. You must love to come to practice for the players to love to come. Players must be able to see you love to teach the game. Be thorough in your teaching. Assume that your players know nothing. Be a "stickler" for the smallest of details (in a positive manner). Do not ask for, but demand full efforts from yourself, your coaching staff, and your players.
A good coach is a GREAT teacher and motivator.
Have a detailed practice plan and follow it. "PLAN YOUR WORK–WORK YOUR PLAN!" Still, there are times when you must be flexible with your practice plan.
Incorporate the "whole-part-whole" method in your teaching of the game.
Do NOT  ask for–DEMAND your players' attention. They must give you their "eyes and ears" at all times.
Make your practices more demanding and tougher (both physically and mentally) than the games will demand.
Establish your drills so that your players must concentrate as they perform them. This will prepare them so that they will be able to concentrate more in their games.
Do NOT allow any players to stand around in practice, doing nothing.
Assume that your players know nothing and that they have no basic fundamental skills. Start with the basics both intellectually and skill-wise. Stress fundamentals and proper technique. Stress mental and physical effort ALL of the time by EVERY player.
Stress teamwork both on offense and on defense. Stress communication with teammates and the coaching staff.
Give positive credit to players with more enthusiasm than others, especially when they have shown extra effort–physically or mentally.
When a player does something positive a couple of times, send that player for a water break. Have the other players shoot "one and one" free throws. If that player misses the front end of   the "1 & 1," have them run a full court sprint. If that player makes the front end of the "1 & 1," but misses the second free throw, have that player run a half-court sprint. If that player makes both ends of a "1 & 1," send them to water also.
Often, reward the player or players that do something correct or well, instead of punishing the player or players that do not perform as successfully.
Make sure that there is plenty of running and movement immediately before you send your players to shoot free throws. Make sure you have your players shoot 2 free throws at a time, as the players would do in a game.
A drill is not a GREAT drill, unless the coach TEACHES the drill in a GREAT manner with GREAT enthusiasm and energy.
Make sure that you constructively correct a player when he/she does something wrong and try not to criticize that player. Make sure that all criticisms are constructive and not personal.
Set standards for your players in your shooting drills. Set time limits for your players to hurry (but under control) and get off as many shots as possible. Set accuracy limits for your players to attempt to make a specific number of shots in each different shooting drill.
Utilize many of your shooting drills after some type of strenuous drills, so that your players can get accustomed to shooting when they are winded and fatigued.
Make sure you can combine some drills with other drills, so that there are frequent opportunities to work on "offense-to-defense" transition, as well as "defense-to-offense" transition.
Have managers record statistics from your practice, such as many of   the various shooting drills that you utilize. Post those statistics, so that players can see that their results are important to you and the team.
Spend time thinking of ways to make as many of your drills as possible into competitions. To provide variety, there can be individual competition, small group competition, and team competition. Have a winner and a loser in the majority of the competitive drills, with the losers having some form of a light penalty.   The light penalty could be in the form of small sprints, pushups, or sit-ups.
When you are about to criticize a player, first ask him or her: "What did you just do correctly?" Then ask him, "What did you do incorrectly?"
Do not allow yourself to omit the physical conditioning of your players, because you ran out of time and some part of the practice had to be sacrificed. This can become an easy bad habit to fall into.
"Practice does not make perfect," but "Perfect practice does make perfect!" Perfect practice comes from well-planned practice plans by the coaching staff. The practice plan is the coach's lesson plan.
Implement a great deal of structure into your practice plans and practice routines, so that your players can have an idea of what to expect. Keep the practice lengths at about an equal length of time for each practice, with shorter practices and lighter physical activity the night before games and often the night after games.
Occasionally, during the long hard grueling part of the season about 2/3 or so through the schedule, call off a scheduled practice. Or have practice, and do something completely different. Play wiffle ball or watch a movie or have pizza for the team. It can be a tremendously positive "breath of fresh air."
Remember to teach the following phrase by preaching it as well as by example, "Failing to prepare is preparing to fail."
Do not finish practice on a negative note-not a poorly performed drill, or a missed shot, or a turnover. Do not finish your practice with conditioning work. Conditioning is extremely important, but it does not have to conclude a practice. The last drill or activity should be a positive, rewarding, and fun type of activity to give them the motivation for the next day's practice. Make players eager for tomorrow's practice.
Summary
These are a few thoughts and ideas that I have learned from other coaches or have discovered over the many years that I have participated either in the many types of practice as either a player or as a coach in the various sports I have coached at the different levels that I have coached. Utilize them into your philosophy and constantly work on improving your practice sessions.
About the Author
Coach Kimble was the Head Basketball Coaching position at Deland-Weldon (IL) High School for five years (91-43) that included 2 Regional Championships, 2 Regional Runner-Ups and 1 Sectional Tournament Runner-up. He then moved to Dunlap (IL) High School (90-45) with 2 Regional Runners-up, 1 Regional, 1 Sectional and 1 Super-Sectional Championship and a final 2nd Place Finish in the Illinois Class A State Tournament. He was an Assistant Basketball Coach at Central Florida Community College in Ocala, FL for 1 year before becoming Offensive Coordinator and then Associate Head Coach for 3 additional years He then was the Head Basketball Coach at Crestview (FL) High School for 10 years, averaging over 16 wins per season.
He has had articles published in the following publications such as: The Basketball Bulletin of the National Association of Basketball Coaches, the Scholastic Coach and Athletic Journal, Winning Hoops, Basketball Sense, and American Basketball Quarterly. He has also written and has had five books published along with over 25 different DVDs by Coaches Choice and Fever River Sports Production.
See him on Twitter @CoachJohnKimble and his Web Page "www.CoachJohnKimble.com"