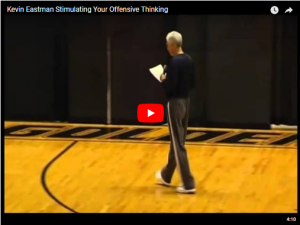 I have been fortunate to partner with Kevin Eastman to provide some sample videos from has basketball coaching DVDs. This video is a segment from his "Stimulating your Offensive Thinking DVD." It is a part of his 8 DVD set which includes High Intensity Skill Development, NBA Drills for All Levels, Stimulate Your Offensive Thinking, Defensive Strategies and Teaching Points, Strategies and Philosophy for Coaching Success, Stimulate Your Defensive Thinking, Defending the Pick and Roll the NBA Way, A Champion's DNA.
This link is to a previous video that I posted with: 3 Drills from Kevin Eastman.
You can also see another 5 minute video from Coach Eastman by clicking on this link: Keys to Quality Skill Development.
Click here for detailed information about purchasing the DVDs at a special price If you need any assistance, email me at [email protected] or call or text (317) 721-1527.
Former D1 Head Coach and Long Time Doc Rivers Assistant NBA Coach Kevin Eastman provides some principles to apply to your offensive attack as well as a little about your team culture.