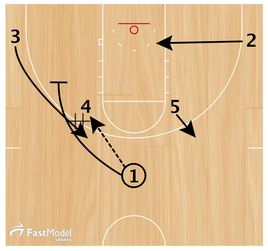 This man to man is from the FastModel Sports Basketball Plays and Drills Library The site has thousands of drills and plays that have been submitted by basketball coaches from around the world.
This play was contributed by Adam Spinella Assistant Men's Basketball Coach at Division III Dickinson College in Carlisle, PA.
You can also find out more about their Play Diagramming software by clicking this link: FastDraw
The Double Rip action usually frees up the player you want to establish very deep position.
Run by Mike Budenholzer during his time as Hawks Head Coach.
Horns formation start.
(1) passes to (4) on the elbow, curls over him and sets a screen for (3) to come get the ball from (4) in a handoff.
Double Rip is set for (4) as (3) swings the ball to (5), who steps out.
(1) and (2) set the Double Rip.
Screen-the-screener occurs as (3) sets a down screen for (2) to pop to the top of the key.
(1) clears to the corner.