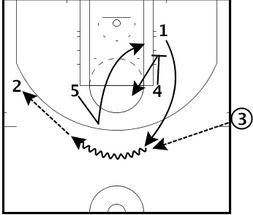 These three basketball plays from the NBA playoffs.
They were submitted by Coach Kyle Gilreath. Kyle is a current high school coach and is a former graduate assistant at Florida.
Kyle has written an eBook called "Championship Execution."
He donates a portion of the proceed to the V Cancer Research Foundation:
You can find out more here: Championship Execution
Also, if you are interested in more offensive sets from the Spurs and Heat, I have information about the Spurs and Heat Playbook bundle from Coach Scott Peterman of the Basketball HoopScoop site. They contain 116 set plays (including several pick and roll sets) 18 secondary break actions, zone sets, and out of bounds plays. You can see more information at this link: Spurs and Heat Playbooks Information
San Antonio Spurs: Zipper Twist Special (Frame 1)
1 zippered off a screen from 4. 3 inbounded to 1.
5 slipped a middle pick & roll and 1 then passed to 2.
By slipping 5 to the rim, it forced the weak side defenders to help in the lane a little more.

San Antonio Spurs: Zipper Twist Special (Frame 2)
4 then sprinted into a side pick & roll. 2 turned it down and at the same time 5 flared 3 to the corner for an open 3-pointer from the corner.
With the defense already shifted in the lane, as (4) sprinted out into the pick the Warriors' defense helped high which opened up a driving lane for 2.
With the defense focused on 2 and 5 this opened up the flare in the corner for the knock down 3-pointer.
Oklahoma City Thunder Slide Punch
3 cut off a screen from 4. By moving 3 over top, X4 had to respect the cut for a moment which forced the defense to be a tad late on the pick & roll.
4 then stepped out and set a pick & roll for 1. 1 came off and found 4 rolling to the rim. The defense decided to stay home on 2 which allowed 4 to be open on the roll.
Throughout the game the Thunder continued to put Memphis into pick & roll situations with a shooter spaced away to force the defense to make a decision to help or to stay home
Heat vs. Bulls Rhodie Punch
2 cut off a stagger from 3 and 5. 5 then flared 3. The Bulls had to respect the fact that 2 and 3 both came off screens.
This allowed 5 to quickly step out for the pick & roll for 1. The defense on 5 was a tad late helping.due to the original scrreening action on 2 and 3.
Screening players into picks OR setting screening which puts the defense in a bind and using the initial screener as a picker makes it very difficult for the on ball screeners defender to effectively defend the screen and roll.
If you are interested in more offensive sets from the Spurs and Heat, I have information about the Spurs and Heat Playbook bundle from Coach Scott Peterman of the Basketball HoopScoop site. They contain 116 set plays (including several pick and roll sets) 18 secondary break actions, zone sets, and out of bounds plays. You can see more information at this link: Spurs and Heat Playbooks Information