A couple of half court sets from Northwestern.
They are taken from the Chris Collins Northwestern Playbook which is included in this week's eBook special.
We are running our March Madness Celebration eBook bundle sale again this year. Any bundle of 4 Coaching Toolbox & HoopScoop eBooks is $35.
Create your own bundle by selecting any 4 of the eBooks that we have featured in our Thursday bundles. Email me at bwilliams@coachingtoolbox.net or call/text me at 765-366-9673 and I can set one up for you.
Or click this link and select any 4 eBooks: eBook Bundle Special
Bundle #1 Shaka Smart Playbook, Meet the Press, Ultimate Matchup Zone, Mental Toughness
Bundle #2 Brad Stevens Butler Playbook, Packline Defense, Spurs Playbook, Attention to Detail eBook
Bundle #3 Louisville Playbook, Comprehensive Ball Screen, Iowa State Playbook, Winning Special Situations
Bundle #4 Ultimate Horns Playbook, Versatile Swing Offense Playbook, Spread and Go Offense Playbook, 130 Ways to Improve Practice
Click here for all choices: eBook Bundle Sale Choices
Diagrams created with FastDraw
Northwestern Curl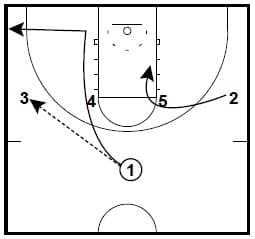 1 hits 3.
4 sets UCLA screen for 1.
2 curls off 5.
Right after 2 curls off 5, he immediately turns and sets screen for 5.
5 takes screen to ball side block.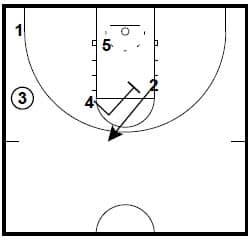 4 pins in for 2.
Even if you don't use this exact play, you might be able to fit the double curl screen into something that you already run.
Northwestern DD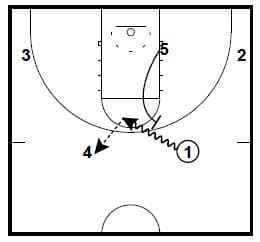 5 sprints and sets high ballscreen.
1 comes off 5 and drives middle.
1 pitches ball to 4 whose man is helping on drive.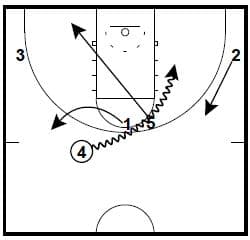 4 drives the ball off 1 and 5 man diving away from the ball.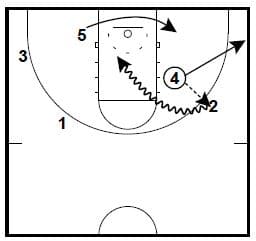 2 man fills behind the drive.
If 4 cant drive ball to rim for shot, kicks to 2 who catches and drives middle off of 4. 5 cuts opposite the ball for dump down.