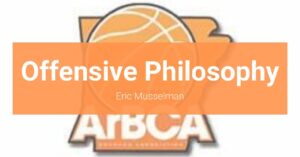 University of Arkansas coach Eric Musselman shares insights into how he has designed his exciting offensive style in this clinic presentation. Coach Musselman discusses the importance of personnel, using terminology, and creating play "families" to expand your playbook. A Q/A session is also included.
We are providing this video to give you ideas on how to enhance your current system. The idea is not to implement it exactly as is, but rather to tweak it to make it fit your system.
There is sound with the video, so please make sure that your sound is on.
This is a Vimeo video, so you will need to be on a network that does not block Vimeo videos.
If you would like to see more information about Coach Musselman's entire presentation, click this link: Eric Musselman-Offensive Philosophy

Ball Security

Play Calling