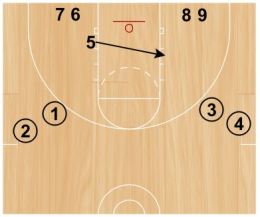 These drills are designed to help your team's execution by helping players' concentration.
Even if you don't use the particular schemes that are mentioned in the post, you can adapt them to your system.
The drills are from Mike Neighbors' weekly basketball coaching newsletter.
Let me know if you would like to be added to his email list and I will pass your address along.
Competitive 5 on 0 Closeouts
One of the "necessary evils" is working with your team in 5-on-0 situations. I used to call it Dummy Offense but the high school principal at my school thought I was demeaning my players. Some people call it skeleton O, some call it Dry O, some call it shell O… regardless of what we call it, simulating your team offense without a defense is an
important part of what we do.
A team's ability to PRETEND in this situation has always been a good sign for us. If our players have the ability to simulate a defender in front of them requiring them to catch and square, to use short/violent fakes on their moves, to make crisp cuts/passes, and then finish with a move that mirrors one that might be taken in traffic at the buzzer… Not all players and teams can do this. Our best teams can… our worst teams can't…
During this week between our Conference Tournament and the post-season, we had four practices in which we had no opponent to prepare for. It's the first time that has been the case since late October.
To help simulate game situations in a competitive setting, we split our ten players into two even teams. Purple was up first. 3:00 on the clock… We told them they could score on any of our Dribble Drive options. The only requirement was that on the first five possessions each of the five players must be the player to attempt the first shot of the possession. After the first five trips, they anyone could take the first shot. A made three pointer was worth three points. A made two pointer was worth two points. If they first shot of the possession was missed, and they could rebound that miss before the ball hit the floor, they could shot from that spot and if made could earn 1 point. Coaches also could wave off ANY POINTS if the execution was incorrect or the effort wasn't up to game like standards. At the end of the three minutes, Purple moved to the side where each player attempted a 1 and 1 FT to add to their First Period Score. Gold got their 3:00 under the same rules and then attempted their FT's on a side goal as Purple began Period #2.
In Period #2, scoring and having all five players attempt first shot on possession remained the same. In this period, the team had to execute any of our Three Zone Motion actions. At the end of 2nd period, each player shot a 2 shot FT opportunity. Teams switch.
Period #3 was back to man-to-man actions from a chosen family of set plays. At the end of this period rather than shoot FT's the team executed 5 bounds plays of their choice.
Period 4 was back to Zone using any of our set plays utilized against zone defense.
Peer Passing
Diagrams created with FastDraw
In this drill, we put the impetus on our players to be each others peers. Start with our forwards in a line along the baseline without balls. The guards set up on the wing, each with a ball.
The first post makes her cut to the ball side. IF, the guard believes she cut hard, has good position, and good presen-tation, she feeds her the ball. The post makes a desired move. IF NOT, she waves her off the court, and the next post player cuts.
The guard then makes her cut to the designated, desired position. The guard on the weak side becomes her "peer". She judges if the post entry pass was good. She judges if the cut was acceptable. She judges if shot preparation meets our standards. If so, she passes it and guard get to take her shot.
If not, then she "waves her off" and we recycle drill with another post player cutting to Post-Up.
The drill continues recycling itself.
Players get their own rebounds on shots and return to opposite lines.
Things you will develop in this drill:
A high standard of execution. You'll find your players may be harder on themselves than we are as coaches on most occasions.
You will also pick out any people who may let others "coast" or "slide"… or vice versa!!
Variations: Vary the post moves, vary the guard cuts, vary the spots on the floor.
Competitive: Can make it time/score by introducing point value to successful or consecutive passes. Adding defense can also give drill a winner/loser feel.