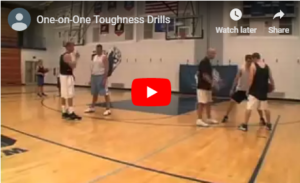 I am posting this video to give you a visual idea of a drill that I saw  Coach Ed Schilling who is an assistant coach for the Grand Canyon Antelopes use in one of his practices. At the time, he was the head coach at two time Indiana High School 2A State Champion Park Tudor. I did not video the drill when I saw Coach Schilling lead it, so I am using this video as an example that is similar to what he did.
Before being hired at Indiana, Coach Schilling was an assistant for Steve Alford at UCLA and the Executive Director at Champions Academy where he did skill development workouts
Make sure your speakers are on to see and hear the You Tube videos This is a You Tube video, so please make sure that you are on a server that allows You Tube access.
This is not Coach Schilling, but I like a lot of what the coach in this video says and does. The only thing I would improve in the video is that in order for the offense to become tougher with the ball, the defense should foul more frequently in the drill than they do in the video.
Make sure that there are no fouls to the head or face and that all fouls are to make the ballhandler tougher. The offense cannot get back at the defense by fouling. That would eliminate the purpose of becoming tougher to keep from turning the ball over.
Ed also did a moving toughner where he used the old one on one zig zag drill with a dribbler and a defender (offense must stay on one third of the floor and dribble baseline to baseline) while the defender is fouling and hand checking.
This is a simple drill, but effective if done in the right spirit and with the purpose of making each other tougher. The expectation in our program is that contact is never an excuse to lose the ball.
Press the play arrow to see the video.