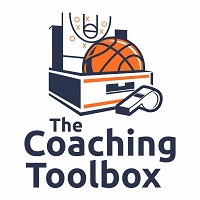 Some random thoughts from my Bob Knight file from over the years…
1.  The most effective offensive movement by far is the movement that takes place off a screen.
2.  Run your offense six to eight feet above the baseline.  That give you a chance to cut both toward the ball and toward the basket.
3.  The primary responsibility of a coach is to teach players to see the game.
4.  A seat on the bench is the best motivator.
5.  The seven important points of the game are: Shot selection, handling the ball without mistakes, moving without the ball, and helping each other get open on offense.  For defense–pressure on the ball, taking away what the offense wants to do, and keeping track of ball location.  He wanted to incorporate at least one of these seven points in every drill he did.
6.  Other daily areas to cover are pressure in the passing lanes, help and recover, blockout, and post defense.
7.  Work on individual fundamental drills for 2 to 5 minutes and then change the drill.
8.  Work on a team aspect for a maximum of 10 minutes at a time.  If a particular team aspect needs 30 minutes in one practice, break it into 3 10 minute segments and have other segments between those 3.
9.  Your hands are a defensive weapon only if your feet put them in a position to be used effectively.
10.  We think it is essential to have a man in the high post area agains man to man defense.
11.  Most players cut toward the basketball rather than away from the player guarding him.  The cutter must have his attention on getting away from the defender and not the basketball.
12.  The most important thing in attacking a zone is a shot fake.  The second most is the pass fake.
13.  In basketball, the mental is to the physical as four is to one.
14.  Everything we do involves two thoughts–simplicity and execution.
15.  We don't expect just our post players to defend the post.  Everyone on the team must be able to defend the post.
The Coaching Toolbox has hundreds of resources for basketball coachingincluding basketball practice, basketball plays, basketball drills, basketball quotes, basketball workouts, basketball poems, and more!