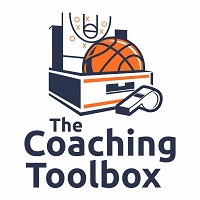 I used to look at a player's scoring effectiveness as being ineffective if they did not score at least one point for each field goal attempted.  So, if you took 6 shots, you need to score at least 6 points or you were hurting the team.  Defensively, we felt that if we held the other team's top scorers to less than a point a shot, we had a great chance to win.  But, I didn't like it to measure our leading scorers because if our leading scorer took 18 shots and scored 17 points, that met the criteria, but wasn't going to help us win games.
Here are a couple of stats that I find much more useful.  It is easy to set up a spreadsheet, or have your statisticians or managers if you have them, to set one up to calculate the following:
EFFECTIVE FIELD GOAL PERCENTAGE

In my opinion, when looking at statistics, overall field goal percentage is not a useful statistic to judge your player's shooting efficiency since it combines both two and three point shots to calculate the percentage.  Two point percentage alone and Three point percentage will tell you how a player does at both ranges, but to get a comparison of how effective a player is who shoots mainly twos compared to a player who shoots mainly threes is the old apples to oranges comparison.
Effective Field Goal Percentage is calculated by counting each three point attempt as one and a half shots attempted since each three point shot scores one and a half times the number of points that a two point shot does.  It provides for a more level comparison.
The formula for effective field goal percentage is:
eFG% = (FGM + .5*3PM)/FGA
FGM and FGA include all shots, both two point shots and three point shots.
You could also use the formula
(2FGM + 1.5 * 3FGM)/FGA, where FGA is total field goals attempted, including 2 point field goal attempts as well as 3 point field goal attempts.
TRUE SHOOTING PERCENTAGE
True Shooting Percentage is a statistic takes into account being able to get to the line and make free throws in addition to being efficient in making two and three point shots.
The formula is:
TS% = (Points/2) / [FGA + (0.44 * FTA)]
The rationale in dividing the points by two is by doing so, it effectively makes each three point shot made worth 1.5 points.  This also makes each two free throws made equal to one two point basket made.
One free throw attempted is basically half a field goal attempt, so multiplying the FTA by .5 seems to make sense.  The reason that .44 is used is that statistical research by the NBA has taken into account the old fashioned three point play of a basket and a foul.  So, in those cases, the field goal attempt made is responsible for both the FGM and the FTA.
The first few times I looked at these, they were a little confusing (and my teaching area is math), but after looking at them and researching them, they made more sense as a measure than the traditional overall field goal percentage.
The Coaching Toolbox has hundreds of free resources for basketball coaching including basketball plays, basketball drills, basketball quotes, basketball workouts, basketball poems, and more!