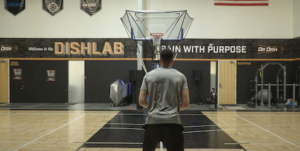 Provided by our friends at Dr. Dish Basketball,
This drill requires shooters to make 2 consecutive shots from 5 spots for a total of 10 makes.  The score on the drill is the amount of time that it takes the shooter to complete the 10 makes
You can and should modify any of the drills and how they are timed or scored to make them fit your needs or to add variety to your skill development work.
Some ideas to modify or add variety to the drill are:
1.  If you are working with younger players, require them to make 2 shots from each spot, but they don't have to be 2 in a row.
2.  Change the spots.
3.  Add in extra spots so that the shooter has to make 12 or 14 shots.
4.  For younger players, cap the time at 60, 90, or 120 seconds or whatever is appropriate and their score is the number of shots that they can make in that specified time.
5.  Rather than going for a specific time, have players shooting head to head at each end and the first one to complete 10 shots is the winner.
6.  The best modifications will be ones that you create to fit your players.
Please make sure your sound is on to see the video.
This drill is hosted on YouTube, so you will need to be on a server that allows you to access YouTube to see the drill.
Click the play arrow to see the drill.