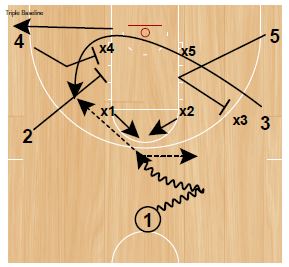 This set to attack a box and 1 defense was contributed by Coach Bert DeSalovo.
Coach DeSalvo has served as the Head Women's Basketball Coach at Southern Connecticut State University (NCAA DII – NE-10 Conference).
Prior to leading the SCSU program, DeSalvo was owner of Full Court Consulting, a firm which served a variety college and high school coaches throughout the country. DeSalvo also is a regular contributor on multiple blogs including his own, Expressions from the Hardwood.
He coached previously as the top assistant for the women's basketball program at Division II Clarion University for two seasons, was the head coach and assistant director of athletics at Penn State-Beaver, was an assistant women's coach at Division III MacMurray College was as a men's assistant coach at NCAA Division I Maryland-Eastern Shore, and was the girls' varsity head coach at Chariho High School (RI) during the 2004-2005 season.
He also has experience as a junior varsity, middle school and AAU coach.
Diagrams created with FastDraw
1 dribble to 3 to key action.
5 fakes flashing to the middle and backscreens for 3
3 sprints to opposite block area
4 screens x4
2 screens x4 or x3 chasing 3
3 curls or bumps to the corner depending if x3 piggybacks the screen or comes over the top
1 passes to 3

If 3 is covered, 3 spaces behind 3pt line
2 splits and flashes to the middle
4 backscreens x3 for 3
If two catches in the middle, 5 dives to the block to create a 2 on 1 vs. x5
If x4 helps on 2/5 (2 on 1), 4 can pop to the wing that 3 vacates for a 3pt shot