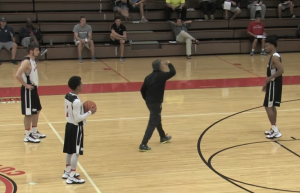 These 3 actions for getting open for a late game 3 point shot are taken from Coach Keith Dambrot–Head Men's Coach at Duquense (previously a Akron)
There is sound with the video, so please make sure that your sound is on.
The video is hosted on You Tube, so you will need to be on a network that allows you to access that site.
The videos are from the Championship Productions You Tube Channel..
You might be able to use the actions for other situations such as if you are having trouble entering the ball to the wing for other movements that you are using.
If nothing else, I hope this video stimulates some thought as to what adjustments you can make to your actions and how they are defended late in the game when you want to get a player open for a three point shot.
Click the play arrow to play the video with his thoughts.
If you are interested in learning more about the Championship Productions Basketball Coaching Video (available in both DVD and Instant Video Format) that this drill came from, you can click the following link: Keith Dambrot: Winning Plays for Special Situations