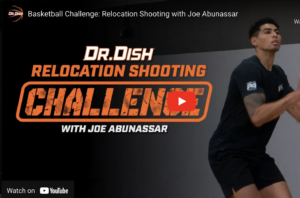 This skill development drill is provided by Dr. Dish Basketball.
IMPACT Basketball founder Joe Abunassar has a drill that you can use in your spring and summer skill development workouts and create a challenge for your team or individuals.
In this drill, the players shoot until they make 20 and their score is based on how long it takes them to hit 20 shots. With the movement that is involved in the drill and the amount of time that it will take to get to 20 makes, the drill is also a conditioner and a toughness drill.
You can and should modify any of the drills to make them fit your needs or to add variety to your skill development work.
Please make sure your sound is on to see the video.
This drill is hosted on YouTube, so you will need to be on a server that allows you to access YouTube to see the drill.
Click the play arrow so see the drill.