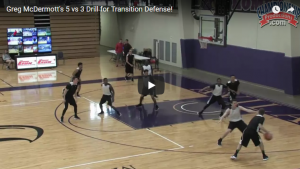 This conversion defense drill is with Creighton's Greg McDermott.
The video is hosted on You Tube.
You will need to be on a network that allows you to access that site.
This is a drill that many coaches, use.
In his version, the offense has 12 seconds to score.
Coach also discusses the fact that when he is using numbers disadvantage drills, he likes to have players moving into the drill to make even numbers and more game realism.
He also makes sure that the players are executing their defensive conversion rules in the drill.
The video is from the Championship Productions You Tube Channel
If you are interested in learning more about the Championship Productions Basketball Coaching Video (available in both DVD and Instant Video Format) that this drill came from, you can click the following link: Greg McDermott: Special Situations & Offensive Sets
Click the play arrow to view the video.
There is narration with the video, so please make sure that your sound is on.