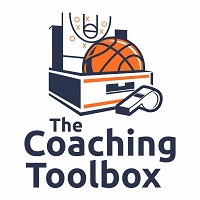 University of Maine Men's Assistant Coach Zak Boisvert has assembled some of his notes that he took in September.
He has an outstanding site with posts on various coaching topics at www.pickandpop.net
His You Tube channel has several videos with various types of man to man plays, zone sets, and inbounds plays.
You can subscribe to receive an update when he posts a new video Zak Boisvert You Tube Channel
You can follow him on Twitter at this link: @ZakBoisvert
-Leonard Fournette tweet: Someone took the same situation you complaining about & won with it.
-Inky Johnson tweet: If the reason is not big enough the excuse will be…. But at a certain point we have to become stronger than our strongest excuse.
-Change your best
-The voice of the off-ball defenders need to be the "eyes" of the on-ball defender
-Hardens: slow dribble + hard, fast dribble (David Thorpe)
–Luke Yaklich book recommendation: "Dream Teams: Working together without falling apart" by Shane Snow
-Chris Beard: "How have you helped a teammate today?"
-I want to do a better job this year impacting my players beyond the game of basketball. I need to
spend time consciously thinking about how I am doing this.
-What are we going to do today to accomplish what we want? – Ron Sanchez, Charlotte
-Porter Moser: if you capture the process that led you to success and set out to get better every day, you'll have a huge competitive advantage.
Marcus Luttrell, Lone Survivor -It's the focus on the little stuff that nobody else does, that separates champions from everyone else.
Jamion Christian: Each player makes 12,500 shots a month.
-Semi Ojeleye: I think the way we all get what we want is if we win.
-PGC on zone offense: Don't trim the edges. Puncture the middle!
-How can we make our pregame warmups better?
Paul Weir, New Mexico: -Has a sign in his office over his recruiting board that reads "Coach THIS Team." Don't ever forget the team you have. Don't get so caught up in those guys on your board, that you don't fully invest in the guys that are already in your program. Through donations by fundraisers, he started a library in the players' locker room. Built a book shelf and filled it with some of his favorite books.
Chris Beard Knight told him at the airport during his interview, "I've never been concerned with how hard someone works. That's a given. I'm much more concerned with who can get what done."
Tim Kight: -Elite culture are exclusive first, inclusive second. "If you meet our standard, you care about us, you
celebreate the people around you, and you do the work we need you to do in the group we are, you can be a part of us. But if you're not willing to do that, you can't be a part of us. Being you never supercedes who we're going to be.
Dave Anderson-Changing a culture can create conflict. But temporary discomfort is better than temporary ease, if
it averts permanent failure.
Jon Gruden The real players want to be coached, they want structure, they want discipline, they don't want it to be
easy."
-If your teammates followed your example today instead of your advice, where would you be leading them?
-Ray Dalio: Principles are ways of dealing with situations. They are the evolving record of our understanding of what works well.
-Chuck Noll: "If you want to win, do the ordinary things better than anyone else does them day in and day out."
John Wooden: "You either have a philosophy or you don't. Players change … The philosophy doesn't."
In evaluating players, both during games and in film sessions, Brad Stevens is careful with language, according to coaches, players and team higher-ups. He focuses on actions: We didn't get this rebound. You should have made this rotation earlier. The criticism is never about the player's character. No one is labeled lazy or stupid or selfish. Stevens simply describes what did or did not happen, and what should happen next time.
Google Spent 2 Years Studying 180 Teams. The Most Successful Ones Shared These 5 Traits
-Google launched an initiative, Project Aristotle, to help the organization codify the secrets to team
effectiveness. Google wanted to know why some teams excelled while others fell behind.
– Before this study, like many other organizations, Google execs believed that building the best
teams meant compiling the best people
-5 characteristics of enhanced teams:
1. Dependability – Team members get things done on time and meet expectations.
2. Structure and Clarity – Clear goals + well-defined roles within the group.
3. Meaning – The work has personal significance to each member.
4. Impact – The group believes their work is purposeful and positively impacts the
greater good.
5. Psychological Safety – Everyone is safe to take risks, voice opinions and ask
judgement-free questions.
-What do you mean when you say you want high-culture guys, what do you really mean?
-My ego demands from myself the success of my team – Bill Rusell (my team's success is a reflection of myself)
-"Wall" concept: Empty side ball screen…aggressive with the high guy on weakside…guy below is ready to stunt. We are forcing the ball-handler to pass. Can't get rejected on initial pick & roll. Find tape of this!!
-Handedness of shooters – closeout to the hand of the shooter…right-handed shooter, I'm closing out my left hand. My foot angle doesn't change, but I am sending him to his weak hand. I am playing him straight up.
-Frank Gore: I can help a locker room. I can help a team, just by the way I practice. I remember Tom Rathman said to me, "The only things you should worry about is your peers' respect."
-Steve Nash: There is no true development without competitiveness and resilience. Without those, it's just window dressing.
-Steve Jobs: "It doesnt make sense to hire smart people and tell them what to do; we hire smart people to tell us what to do. Over the years we learned if we ask people to rely on logic & common sense instead of formal policies. Most of the time we would get better results and at a lower cost."
Coach Moser's leadership tips for Quinlan students
-Talk given to incoming Quinlan School of Business graduate students
1. Set the tone: Live the culture you want to create
2. Recruit and hire culture: Select coaches and players who already embraced the culture he
wanted
3. Empower your people: Because they feel empowered, they will work harder to make the
program better.
4. Be inspired by the past, and focused on the future
5. Be obsessed with getting better: The "Journey of Learning"
6. Leave entitlement at the door: Dabo quote, ""Let the light that shines in you be brighter than the
light that shines on you."
7. Do it the right way
-Jon Gordon: "One person in pursuit of excellence raises the standard of everyone around them. And as they strive for greatness, they bring out the greatness in others. Be that one person today."
-Albert Einstein (via Bob Walsh): 5 ascending levels of intelligence: Smart, Intelligent, Brilliant, Genius, Simple.
-"Silent defense is a soft defense."
-"Being a good teammate is a skill."
As a head coach, you have a significant role, but it's the players' game. The leadership in the locker room is everything.