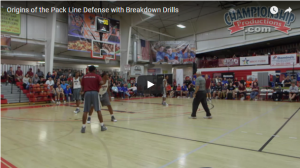 This post contains a video with retired Wisconsin and Washington State Coach Dick Bennett.
Make sure your sound is on as you watch.
The video is a YouTube video
Also, please make sure that you are on a server that allows YouTube access.
Even if you don't play a pack style of defense, I hope the video gives you an idea or two as to how you can clarify and teach the system that you play.
You can make adjustments to the rules and requirements of the drill that fit your team.
If you are interested in finding out more about the DVD that the video sample came from, click here:
Origins of the Pack Line Defense with Breakdown Drills – Basketball — Championship Productions, Inc.
Defensive Vision Drill