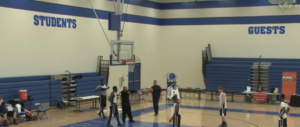 The coach in the video is Frank Allocco, former University of San Francisco Associate Head Coach and former De La Salle (CA) HS Head Coach. In 2014 he was the McDonald's All-American Game West Squad Head Coach. Coach Allocco is the only coach in California history to take two schools to a state title. He was the 2000 National High School Coach of the Year, the 2012 National Catholic Coach of the Year, California State Coach of the Year in 2010 and 2011. He is currently 2nd All-Time in the State of California in Winning Percentage (.868).
The video is to get ideas for isolating individual players and individual defensive skills.
The drill might not fit your exact defensive rules, but the best use of the drill is to tweak it to your needs.
The video is a YouTube video so make sure that you are on a server that allows YouTube access.
If you are interested in learning more about the DVD that this sample was taken from, click here: Frank Allocco: Competitive Drill Progressions for Creating Energy in Your Gym
Make sure your sound is on
Click the play arrow to see the drill.
Defensive Energy Drill