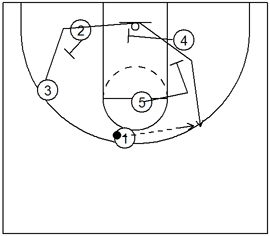 This play is run against man to man defenses.
It features a staggered double screen for a shooter, then finishes with a staggered triple screen for a second shooter.
The play starts in a 1-4 high set.
I have also included links to other plays below the play.
#1 hits #5 at the elbow and then uses a backscreen from #4.
#2 cuts across to the opposite block.
#3 jabs to get open
#5 hits #3 as #2 cuts to the low post or short corner–whichever spot he is more effective from.
#3 can feed #2 or can hit #1 who is coming off the staggered double from #4 and #5.
To complete the play, #2, #4, and #5 set a staggered triple screen for #3.