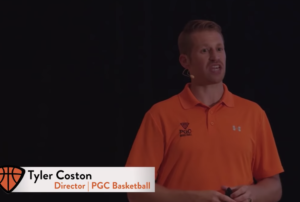 The following videos on "Growing Leaders in Your Basketball Program" and "How to Develop Leaders in Your Program" are from PGC Basketball Director of Player Development Tyler Coston.
The video is one of several hundred available as resources for improvement for basketball coaches and players at the PGC Basketball You Tube Channel
The videos are You Tube Videos.
Please make sure that the network you are on offers access to You Tube Videos.
Also, please make sure that your sound is on.
Click the play arrow to watch the videos on Developing and Growing Leaders.
Growing Leaders in Your Basketball Program
How to Develop Leaders in Your Basketball Program