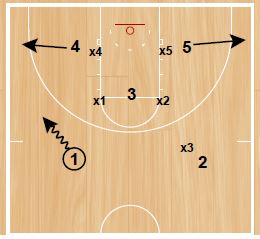 This set to attack a box and 1 defense was contributed by Coach Bert DeSalovo.
Coach DeSalvo has served as the Head Women's Basketball Coach at Southern Connecticut State University (NCAA DII – NE-10 Conference).
Prior to leading the SCSU program, DeSalvo was owner of Full Court Consulting, a firm which served a variety college and high school coaches throughout the country. DeSalvo also is a regular contributor on multiple blogs including his own, Expressions from the Hardwood.
He coached previously as the top assistant for the women's basketball program at Division II Clarion University for two seasons, was the head coach and assistant director of athletics at Penn State-Beaver, was an assistant women's coach at Division III MacMurray College was as a men's assistant coach at NCAA Division I Maryland-Eastern Shore, and was the girls' varsity head coach at Chariho High School (RI) during the 2004-2005 season. He also has experience as a junior varsity, middle school and AAU coach.
Diagrams created with FastDraw
Begin in 2-1-2 alignment,
If x3 is defending 2, 1 dribbles away from 2 4 and 5 flex to respective corners
x1 and x4 step up to defend 1 and 4.
3 sets a backscreen on x3 for 2, who cuts to the middle.
1 looks for 2 in the lane.
2 makes a play or finds 5 cutting to the rim if x5 gives help.
If 2 is not open, 2 clears thru and back to the wing x3 recovers to 2.
3 now flashes to elbow area after screening for 2.
1 can pass to 3 with 5 diving once x5 commits.
or
If 1 already passed to 4 before 3 finished the cut, 4 can enter to 3 with 5 diving once x5 commits to 3.
If 3 is covered, 3 can screen away for 5 who walks down then sprints off the screen
4 or 1 enter to 5.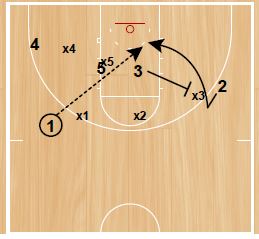 If x5 covers 5 well:
3 sets a back screen for x3
2 goes to the rim for a lob
(If lob is not there, 4 can screen x4 and 2 sprints to near side corner for a 3pt shot