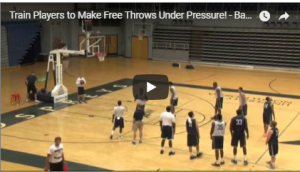 This drill simulates pressure free throws at the end of a game and emphasizes the damage done by missing free throws late in a close game.
Run the drill at the end of practice to more closely simulate the mental and physical fatigue form the end of a game.
Line up the team in the lane spaces and behind the arc as they would for a free throw attempt. The shooter gets a 1-1 opportunity. Put a realistic score on the scoreboard that you would have in the final minutes of a close tournament game, whatever fits your level.
We put the score on the scoreboard at 45-44 for high school varsity with our team leading by one. If the shooter makes the shot, your team gets one point added. If the shooter misses, the opponent gets two points added. That emphasizes the importance of each miss. After one shooter is done, rotate until each player has had a chance to shoot.
If you win the game, practice ends on a positive note. If you lose, there needs to be a penalty such as running, frozen push ups, or whatever you want to use. Or, you can do the drill again until you win it'
If the game ends in a tie, then have an overtime where only the players who missed the first time shoot.
Some adjustments you can make to make the game more challenging are:
If the first shot of the one and one is missed, count it as two misses since the player does not even get to attempt the second shot. That would be 4 points for the imaginary opponent.
Start off with the score tied rather than you being ahead. That takes away from the protecting the lead theme, but if you obviously are going to get fouled with a tie game at times, especially if you attack the basket.
Start out behind by a few points to emphasize attacking the basket late in the game to get fouled and catch up with the clock stopped.
Run sprints prior to or between the free throw attempts to increase fatigue.
Some adjustments you can make to adapt this drill to make it competitive but realistic for younger level teams:
Start out with a bigger lead.
Shoot one shot rather than a one and one each time.
Each miss is only one point for the imaginary opponent.
Here is a slightly different version of the drill run by Matthew Driscoll, Head Coach at the University of North Florida. You can find out more about and see another sample from the DVD that this drill came from at this link: Competitive Shooting Drills
The drill is a You Tube video, so to be able to watch them, you will need to be able to access You Tube on the server that you are on.
Make sure your sound is on as you watch.