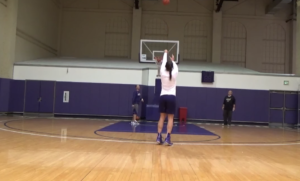 This basketball shooting drill came from Mike Neighbors' Basketball Coaching Newsletter.
If you would like to subscribe, email me and I will forward your interest on to Coach Mike Neighbors.
The shooter in the video, Kelsey Plum, became both the Division I Women's Career Leading Scorer and Single Season Leading Scorer during the 2016-17 season.
At the time this was filmed, Coach Neighbors was at Washington. He has since moved on to Arkansas.
This is Coach Neighbor's description of the drill:
Fun drill that we got from a high school coach, but per NCAA rules does not allow me to mention them by name… but thanks!!
With a player like Plum who is in the gym so often it's imperative to find new ways to keep score and track time during her shooting sessions.
This quickly became a favorite…
For us it's a game spot/game shot drill. Not necessarily game speed but we still create some elements of relocation and 1-2 step shooting to make her move between attempts.
Like most drills, the secret sauce is varying the scoring to keep the challenge unique.
In 99, the shooter gets 3 points for every made shot. That score continues to accumulate as shots are made. If one shot is missed there is NO penalty, but if two shots are missed consecutively, three points are deducted from the overall score. The goal is to get to 99 points before the shooter falls below zero or a set time is reached.
Your best shooters will strive to never "go backwards' by missing two in a row.
In this video, Plum gets to 99 in 2:09.60. Since then she has set a record of 1:53.10.
I can assure you she won't stop doing this drill until she makes 33 in a row with no misses.
Another key: get a good rebounder. Notice I delegate that to Coach Todd Schaefer here, and I assumed the much, much more important role of timer.
Hope your players enjoy this.
We have since morphed this into a team shooting and small group drill that creates fun times in practice… Clutch shooters will emerge!!!
This is a YouTube video. Click the play arrow to watch