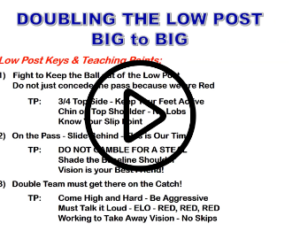 Coach Jim Boone is one of the best teachers of the Pack Line Defense and in the clip below he discusses the key principles of the Post Trap in the Pack Line Defense.
While the #1 goal of post defense in the Pack Line is keeping the ball out of the post, Coach Boone shares his key principles for trapping when the ball has been entered into the post.
In Coach Boone's  Pack Line Defense, he likes to trap big to big. 
As the trap is happening, Coach Boone teaches for the bigs to be toe-to-toe and have their hands active. They want to prevent a skip pass or a cutting pass.
The rule is to be as physical as they can be without fouling
The clip below was taken from Coach Boone's incredible course on how to teach the Pack Line Defense. For more information about that course click the following link: Jim Boone Pack Line Certification Course