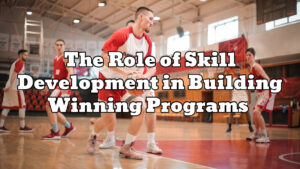 Written by Kyle Ohman, co-founder of BasketballHQ.com
As a basketball coach, there is always the challenge of finding the right balance between player skill development and what the team needs to work on as a whole. In a perfect world, you would be able to work on both areas as much as you would like, but unfortunately, that is not the case. There are only so many hours on the court and time that you can spend working with your players.
So, what is the correct role of skill development with a team? How should a coach balance skill development with all the other areas that need to be worked on? Every situation is different, but there are some general rules and principles that will help with determining this for your team. So below are some keys that you can focus on with your team and making sure that you are developing your players and building a winning program. 
Player Homework
As a coach, you only have so many hours with your team on the floor, that doesn't mean though that you can't give your players stuff that they can do on their own. Most of the time players want to work on their game and get better, they just need direction. So take a portion of your practice or workouts and go over basketball drills that you want your players to be doing throughout the week. Have an emphasis for each week and then hold your players accountable. Let them know that if they want more minutes or a bigger role, these are the areas that they should be focusing on. 
It is important that you are also detailed with your instructions. If you want your players to get stronger, give them a specific workout or exercises to do. If you want them to become better shooters, ball handlers, etc., give them the resources that they need. And, if you are unsure of the different drills or workouts to pass down to your players, do some research. There are plenty of excellent online basketball resources for coaches. So spend some time learning and growing as a coach, and then pass all of this information down to your players.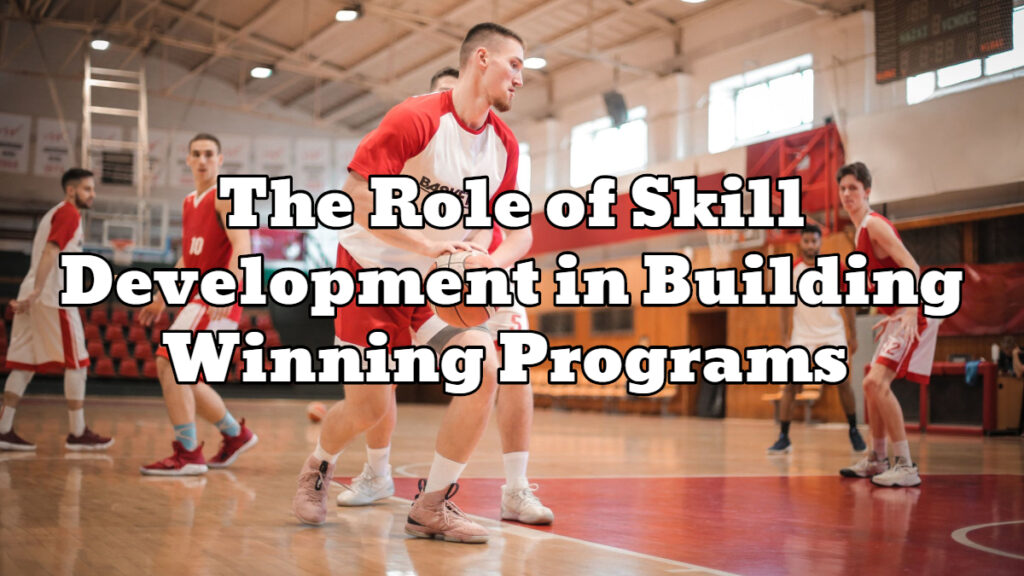 Game-Specific Skills
When you are working on drills in your practices, focus on being able to really lock in on skills and actions that are going to directly translate to a game. This will make sure that your skill development time is fully maximized. It will also help with making sure that your players understand what types of shots, finishes, etc. will be available to them in a game. It is also important that you take the time to explain why, when, and where each type of move should be used. This is one of the biggest points of emphasis that we focus on at Tampa Basketball Training. We want to develop players that not only know how to execute different skills, but that also know how to best use them. So make sure that you are teaching your players how to think and understand the game when you teach them different skills. 
Drills Based on Your System
This is similar to the last point but a little bit more in-depth. With this key, you are going to breakdown parts of your offense or defense and then drill them. It could be a screening action, closeouts on defense, drive and kick, or whatever your system focuses on. This will help with building the puzzle and will make it much easier when you finally put together all of the pieces. It will also help to highlight the players that are good at each of these different situations and will expose those who still need some work. For example, if you want your players to work well off of the ball using and reading different down screens, you could use a drill like the one listed below. 
Ray Allen Curl Cut Basketball Shooting Drill
Drills Used for Condition
Another great way to maximize your gym time is to use basketball drills that also work on conditioning. So rather than spending time on strictly running, you could do a high-intensity ball handling, finishing, or shooting drill. This will allow your players to be able to work on different basketball skills, but will also make sure that they are getting in shape as they do. These types of drills are also an excellent way to work on mental toughness as well. As you are going through the drill, add in different variations and see which players are able to adjust and think as they become fatigued. This will allow you to better determine who you can trust at the end of a close game. 
Competition-Based Drills
Competition may not be a skill that you can measure as easily as how many shots a player makes, but it is a skill that is an absolute must for any team that wants to be successful. A great way to work on developing your team's competitiveness is through competition-based drills. It may be a rebounding drill, shell drill, one on one drill, or whatever you want to work on. The key though is to make sure that players are getting after it and challenging each other to compete and improve. Here is a great example of a rebounding drill that you could use as a competition drill.
Bulldog Basketball Rebounding Drill
The Role of Skill Development in Building Winning Programs Conclusion
You most likely have heard the phrase "It is not about the X's and O's but the John's and Joe's" and this applies to several different areas of the game. One of them though is this area of skill development. As a coach, you can draw up the best play possible or come up with a "lockdown defense," but if you don't have players that are skilled enough to execute them, it really isn't going to matter. That is why it is so important to budget out time to making sure your player's talent levels are maximized.
When it comes to the topic of skill development within your program, it is all going to come down to finding the right balance. Dedicate a set amount of time every day to working on skill development in one or two of the ways discussed above, and then if you need to adjust one way or the other, feel free to do so. Just make sure that skill development is a priority with your team if you want to develop a winning program.