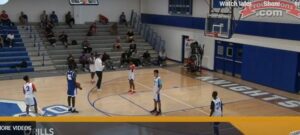 This video is with with Baker Dunleavy, Quinnipiac University Head Men's Basketball Coach. Coach Dunleavy was the Villanova University Associate Head Men's Basketball Coach from 2013 t0 2017.
He doesn't actually show the drill, but he does have some really good coaching points. One of those being that you need to create drills to rep your players on helping on a driver or staying with a shooter, communicating how the defender is playing his/her man, and "catch to shoot."
You will need to be on a network that allows you to access You Tube to view the video.
Click the play arrow to view the video.
There is narration with the video, so please make sure that your sound is on.
You can find out more about the Championship Productions video that this clip is from at this link: Defensive Concepts to Take Away the 3-Ball & Quick Offensive Actions.
The video with Coach is available in both DVD and online format.
Click the play arrow to start the video.