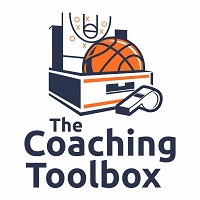 These notes on post play are from Dennis Hutter, Head Women's Coach at Mayville State.
Three types of game all teams should have:
Perimeter game
Intermediate game
Lane game – post play
Post Play Thoughts:
-Whether you are a fast paced team or a team that slows the pace down, you have to have the ability to get the ball to the block
-You can have great post play without great size – Posting up guards is an option
-Easiest way to "loosen up" a defense is to consistently make them defend the ball on the block
-A great post player always has the ability to have two defenders defend them
Double team from away from the ball after the catch
Fronted post with backside helpside defenders
-We want our post players shooting 55% from the floor – where they catch the ball and operate their low post game is
a BIG part of this shooting percentage.
-All offenses should be built from the inside/out – that starts with a great "lane game" – Post Play
-Defenses are also built inside/out – Post players have to work even harder because of this concept
-Five characteristics of a great Post Player
Head – The ability to learn – Shows great patience
Heart – The desire to learn – Plays with great energy and toughness, not afraid of contact
Hands – Ball Security is number one thing when ball is passed into the post
Feet – Always fighting with their feet – footwork is the key to a great seal
Ability to Score the Ball – finishes well around rim with both hands, can make FTs
-Post players need to E.A.T. every day – Effort, Attitude, Toughness
-Great post players sometimes need to show great patience – They let the ball find them, instead of always looking to find the ball
-Play SLOW in the post before and after receiving the ball – USE YOUR HEAD AND READ DEFENDER
-Great perimeter players make great post players – Dean Lockwood
-Play BIG in the post
-Not tall – But Wide & Strong
-Not High, Higher, Highest – But Low, Lower, Lowest
Four Keys to Being a Great Post Player:
Getting Open –Proper Post Stance
-There are two types of offensive post players:  Stationary Post Players & Mobile Post Players
-There are a few different ways that you can get open in the post – you always want to try and get open in your scoring area. A few ways you can get open in your scoring area are as follows:
Seal In – Proper Post Up – seal the defense into the lane
Seal Out – Seal defender out of the lane for a "hi/lo" post feed
Set Up for the Lob – Against a fronting defender
Cutting – Cutting into an area to receive ball
Rim Runs – Post Player runs the middle of the floor in transition offense
Offensive Rebounding – Treat very shot like a pass and "go get the rebound"
-Focus on a Proper Post Stance when trying to get open:
-Post up in an athletic stance – with bent knees and bent elbows
-Wide Base, Low Hips & High Hands
-"Lower and Wider is Better" – The player that wins, is the player that is lower and wider
-Wide enough base that you have great balance, but are still quick
-"Sit Into Your Game"
-Great Balance – Keep head back and in between knees – Keep a still head (baseball hitter)
-DEMAND the ball with your voice and also with your position
-Make contact with defender and move them back a step – "Own your spot on the floor"
-Two ways to create and make contact with your defender
Step over the top of defender
Pin & Spin Technique
-Push hands out, so you can see the backs of your hands
-Take up as much space as you can in the post –take up space with your base and your wide hand placement
Staying Open
-Keep your feet between your defender and the ball
-Stay light on your feet –Boxer Mentality
-Fight with your feet all the time
-Constantly show your #'s to the ball – Don't turn your body and become "skinny"
-If the ball can't see your numbers, you are not open
-Make and MAINTAIN contact through the entire seal – LOSE THE CONTACT/LOSE THE SEAL
-Keep your hands high – limits offensive foul calls and also allows to be ready to receive ball
-"Talk to the ball" – Where do you want the ball fed from????
-Great post players are always thinking one pass ahead – set up defender to seal to the ball
-One defender should not keep you from receiving the ball
-Always try to get both paint and angles when sealing in the post
-Four reasons to release your seal of the defender:
Go catch a pass
Up against a 3 seconds in the lane call
If you get out of your scoring area
On any dribble penetration
Receive the Ball Safely
-Catch the Ball with your eyes, feet and hands
-Ball security is number one thing when ball is passed into the post – Catch the ball!!!!
-Catch, Chin & Look Middle – Play Slow in the Post
-Exception to this is if you have a direct angle to rim on post catch
-Block & Tuck Concept on every catch – Block the ball and quickly tuck the ball under your chin
-Catch the ball with a "piece of the paint"
-Catch with two feet in the post – Jump stop as you catch the ball
-Allows you the ability to use either foot as your pivot foot
Scoring Simply
– A great post player is efficient with BOTH HANDS around the rim
-Try to score with limited amounts of dribbles – no dribble moves are the best "Sweet"
-Get the ball up on all shots – contact on the shot, shortens your shot
-Three Point Plays are the ultimate goal – Absorb the contact and score the ball – TOUGHNESS
-"Scoring Simply" means getting all of your work done before the ball arrives – just like a great shooter
-"Less is More" in the post
-Too many post moves = too little production in the post
-You should have one "go to" move and one "counter" move in the post
-Great post players have one signature move in the post
-Finish closer to the rim, than where you caught the ball
-Shot Fakes in the Post:
-2 Inch vertical shot fake – no elongated shot fakes – short quick fakes
-"Take it up, Keep it up" – Don't bring ball back down after shot fake – CHIN