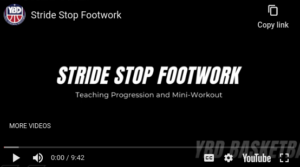 This post was provided by Youth Basketball Development
The ability to stop on balance and under control is a critical skill for young players to master and while it may sound simple the skill must be taught.
There are two fundamental ways to stop.
The Stride Stop
The Jump Stop
The Jump Stop is executed by jumping and landing on both feet at the same time.
The stride stop occurs when one leg strikes the ground before the other thus mimicking the running motion.
Both methods of stopping allow players to play off two feet and be balanced and under control.
By playing off two feet players will be more balanced and under control. They will have a powerful base that will enable them to be more effective and finish through contact.
The video Coach Brent Larson discusses the Stride Stop. You will see game edits of the stride stop finish as well as a teaching progression to help instruct younger players. The video also includes three different finishes at the rim.
Outside hand
Inside hand
Pivot
For more great ideas about how to coach youth players take a look at Coach Larson's book: Youth Basketball Coaching Guide: One Hour to Better Coaching for Parents
The YouTube video below has audio so please make sure that your speakers are turned on.