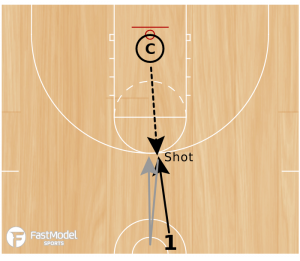 This shoting drill came from the FastModel Sports Basketball Plays and Drills Library.
You can also find out more about FastModel Play Diagramming software by clicking this link: FastDraw
The drill was contributed by Kyle Gilreath, Head Boy's Basketball Coach at Astronaut High School, Titusville, FL. Kyle is also the author of the basketball coaching website, Words on the Bounce.
Coach Gilreath was a graduate manager for Billy Donovan at Florida and learned the drill from Coach Donovan.
This is what Kyle had to say about the drill:
This is one of my favorite shooting drills of all time. It combines shooting, conditioning, and mental toughness to fight through fatigue. I got this drill from Embry-Riddle Head Coach Steve Ridder many years ago when I was a youngster attending team camp with my dad. This drill will test any player who thinks they are a great shooter and make them prove it!
Goal:
Good Players: 10
Great Players: 11
Elite Players: 12+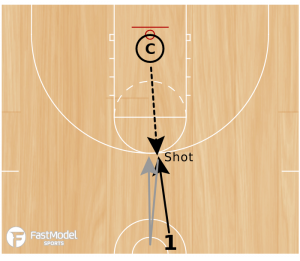 1 Minute on the Clock
Player starts at half-court with a coach or teammate under the rim with a ball (passer).
When the clock starts the player runs in and shoots a 3-pointer.
Make or miss the player sprints back and touches half-court and sprints back in for another 3-pointer.
This is repeated for 1 minute.