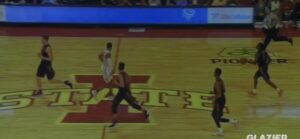 Coach Stephen Gentry, previously at Oklahoma State, now on the Illinois Staff.
The content is located on the Glazier Coaching Vault at this link: Transition Pistol Offense
All of the basketball content in the Glazier Vault at this link: Basketball Glazier Vault Access
You will need to click on the image of the video to start it.
This is a Vimeo video, so you will need to be able to access Vimeo in order to view it.
PUT YOUR CURSOR OVER THE LOWER RIGHT CORNER OF THE VIDEO AND CLICK

(IMAGE LOOKS LIKE THIS) TO WATCH THE VIDEO ON FULL SCREEN TO BE ABLE SEE LARGER DIAGRAMS AND VIDEOS