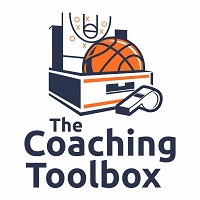 This play is a quick hit to run against a man to man defense to post a player 1 on 1 on the low block.
This play is is a way to post a player by cutting him or her backdoor first and forcing the defense to get on the wrong side of where the feed is coming from.
It is from an old Xavier Men's Basketball Newsletter. If you are interested in subscribing to their newsletter, you can do so at this link: Xavier Newsletter
The play is diagrammed to run for the 5 player, but you can put any player that you want to post in that spot for the play.
#1 passes to #4. #3 cuts off a screen from #2 at the right block.
#5 rejects coming off of #1's screen and goes backdoor
#1 pops out. 4 passes to 1. 5 posts up on the left block.