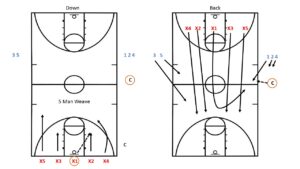 Contributed by Derek Sheridan, Head Boys Coach Delta High School (Delta, Ohio)
Assistant coach (with a ball) has PG, 2-G, & 4-Man on one side of the court & 3-Man, & 5-Man on the opposite side. All 5 players are FT line extended, opposite of the 5 players executing the 5-Man Weave.
Head coach has 5 players on the opposite baseline, ready to execute a full-court 5-Man Weave (down only).
On the head coach's cadence his/her players sprint into a 5-Man Weave. All 5 players must cross the opposite FT line extended.
As the lay-up shot hits the bankboard, the assistant coach yells "Go," and passes the ball to the PG who is with his group of 5. All 5 players sprint in transition offense & all 5 players who were in the weave must sprint back in transition defense & get a stop (they do not have to get the rebound from the lay-up shot).
If the defense earns a stop, they will immediately transition to the opposite end on offense & the opposing players sprint back in transition defense.
The manager has on the left side of the scoreboard a number indicating how many passes the offensive players must make (unless they can score a lay-up from their transition offense).
The right side of the scoreboard lists a number indicating the number (1, 2, 3, 4, 5) of the player who must score, or the number of the set they have to execute if they cannot score out of their transition offense. We mix up using numbers that indicate who can score or what set to execute.
All out-of-bounds situations are played – using the teams BLOB/SLOB plays.
All fouls are 1 & 1 Free throws.
Each day the offense has the opportunity to score "Triple Points." The coach will prescribe what action will lead to triple points.  Triple points could come from certain players scoring, scoring off a certain set, scoring off a certain action (backdoor, lob, flare cut, curl cut, skip pass, etc.)
If the players in the weave did not get a stop, then the drill is re-started and played out until a defensive stop is secured.
Each segment of the drill is ran down, back, and stop/realign into the drill. Teams alternate between weaving back to transition offense & starting on the sideline with the assistant coach.
First team to 21 points wins.
Scoring:

Defense
Stop = 1
Stop & obtained the 1st rebound = 2
Charge =3
Force a turnover =3

Offense
2 pt. FG = 1
3 pt. FG = 2
Offensive Rebound = 3
Trip Points = 6 or 9 pts.