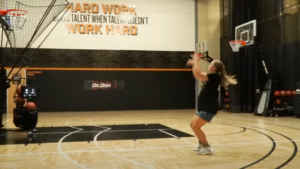 A short video from Dr. Dish Basketball.
The coach presenting in this video is Special Jennings, Head Girls Basketball Coach at Montverde Academy in in Montverde, Florida.
In this skill development drill, players shoot from 5 spots for one minute on each spot.
The goal is to make 10 shots from each spot in that minute time.
You should adjust that to what would challenge, but not overwhelm your players.
Click the play arrow to view this YouTube video.