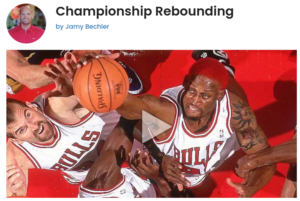 The Half-Court Hustle Rebounding Drill is a terrific drill that teaches players to hustle to rebound out of their playing area.
In  the clip below Jamy Belcher describes the drill.
The drill consists of having a player shoot the basketball from either wing.
All of the other players are in a line at half-court.
The player on the wing will take a shot. The first player in line at half-court sprints in to try to gather the rebound and finish.
The goal is to get to the basketball before it hits the ground and lay it in.
This clip was taken from Coach Jamty Belcher's complete course. To learn more about that course click the following link: Championship Rebounding