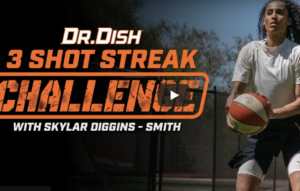 This skill development drill is provided by Dr. Dish Basketball.
This 3 shot streak shooting challenge drill is demonstrated by Skylar Diggins-Smith. Skylar is a 5 time WNBA All Star and 5 time all WNBA selection. She was one of the key players in the 2021 WNBA finals run by the Phoenix Mercury.
You can and should modify any of the drills to make them fit your needs or to add variety to your skill development work.
Please make sure your sound is on to see the video.
This drill is hosted on YouTube, so you will need to be on a server that allows you to access YouTube to see the drill.
Click the play arrow to see the drill.