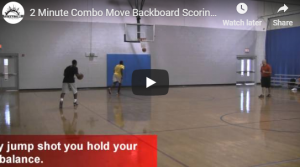 This basketball drill is a competitive drill that is timed for two minutes.
Players can either compete against each other or if they are working out individually, against a team standard or a personal best.
The video is a one of the 1,000's of basketball training videos for all levels of coaches, players, and parents that is offered by BasketballHQ.
You can access their entire library with a pro membership.
They offer a free 7 day trial for the the membership. If you are interested, you can see more at this link: Basketball HQ
Basketball Drills 2 Minute Combo Move Backboard Scoring
The video is a one of the 1,000's of basketball training videos for all levels of coaches, players, and parents that is offered by BasketballHQ. You can access their entire library with a pro membership. They offer a free 7 day trial for the the membership. If you are interested, you can see more at this link: Basketball HQ