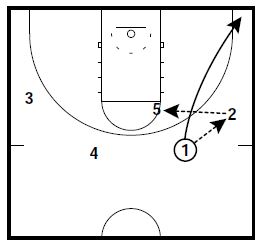 This play is from Brad Underwood's Stephen F. Austin (now at Illinois) playbook put together by John Zall.
The numbers are simply to differentiate the different players and do not represent the traditional point guard, power forward, etc…
You might be able to take a piece or two from this set and use them to put your players in spots where they have an opportunity to use their abilities.
The diagrams are from the Stephen F. Austin playbook.
Diagrams created with FastDraw
SFA Scissor DHO
1 passes t o 2 and cuts through t o strong side corner
2 passes t o 5 at elbow
2 and 4 scissor cut off o f 5
4 cuts into wide pin down for 1
5 enters into DHO with 1
4 and 5 turn and set a stagger screen for 2 t o corner
Note: You could also use 2 as a screener and run 3 off of 2 and then off the staggered double screen