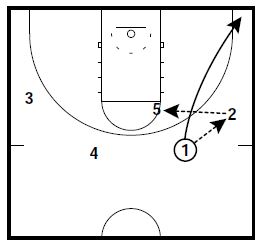 This play is from Brad Underwood's Stephen F. Austin (now at Illinois) playbook put together by John Zall.
The numbers are simply to differentiate the different players and do not represent the traditional point guard, power forward, etc…
You might be able to take a piece or two from this set and use them to put your players in spots where they have an opportunity to use their abilities.
The diagrams are from the Stephen F. Austin playbook.
We are running our back to school eBook Sales
Back to school Sale: 4 eBooks $35
(Click for more information about each)
ID 187 Chris Holtmann Playbook, Archie Miller Playbook, Ultimate Scoring Drills eBook, 2017 NCAA Tourney Plays
ID 27 Brad Stevens Butler Playbook, Packline Defense, Spurs Playbook, Attention to Detail eBook
ID 29 Louisville Playbook, Comprehensive Ball Screen Playbook, Fred Hoiberg Iowa State Playbook, Winning Special Situations
ID 65 Ultimate Horns Playbook, Versatile Swing Offense Playbook, Spread and Go Offense Playbook, 130 Ways to Improve Practice
Or, you can click here to create your own bundle of 2 eBooks for $25:
If you want me to put any 4 eBooks together for you, email me at [email protected] or call/text me at 765-366-9673
Diagrams created with FastDraw
SFA Scissor DHO
1 passes t o 2 and cuts through t o strong side corner
2 passes t o 5 at elbow
2 and 4 scissor cut off o f 5
4 cuts into wide pin down for 1
5 enters into DHO with 1
4 and 5 turn and set a stagger screen for 2 t o corner
Note: You could also use 2 as a screener and run 3 off of 2 and then off the staggered double screen
The diagrams are from the Stephen F. Austin playbook.
We are running our back to school eBook Sales
ID 187 Chris Holtmann Playbook, Archie Miller Playbook, Ultimate Scoring Drills eBook, 2017 NCAA Tourney Plays
ID 27 Brad Stevens Butler Playbook, Packline Defense, Spurs Playbook, Attention to Detail eBook
ID 29 Louisville Playbook, Comprehensive Ball Screen Playbook, Fred Hoiberg Iowa State Playbook, Winning Special Situations
ID 65 Ultimate Horns Playbook, Versatile Swing Offense Playbook, Spread and Go Offense Playbook, 130 Ways to Improve Practice
Or, you can click here to create your own bundle of 2 eBooks for $25:
If you want me to put any 4 eBooks together for you, email me at [email protected] or call/text me at 765-366-9673