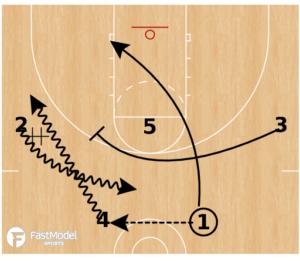 These two man quick hitter cames from the following pages of the FastModel Sports Plays and Drills Library:
Seattle Storm – Horns Flex – FastModel Sports.
Oregon – Double – DHO Concept – FastModel Sports.
You can also find out more about FastModel Play Diagramming software by clicking this link: FastDraw
The first play was contributed by Dr. Tony Miller is the men's assistant basketball coach at Bob Jones University in Greenville, SC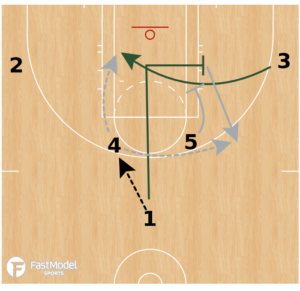 1 passes to 4
1 cuts to middle of lane to set flex screen for 3
5 sets a screen the screener down screen for 1
This second play was diagrammed by Andrew Lacey, Head Men's Basketball Coach at Varina High School in Richmond, Virginia.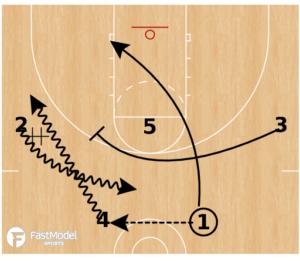 1 passes to 4 and cuts to the same side block
4 runs a dribble hand off with 2
3 sets an on ball screen for 2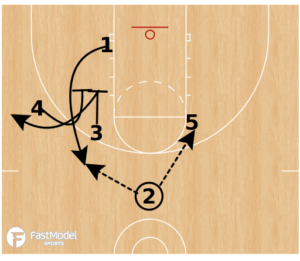 4 and 3 set a wide double screen for 1
3 cuts off 4 to the wing after the screen
2 has the option to pass to 1 or 5 on a clear out.