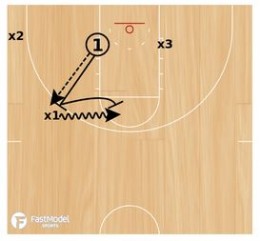 These John Beilein defensive drills came from the FastModel Sports Basketball Plays and Drills Library.
You can also find out more about FastModel Play Diagramming software by clicking this link: FastDraw
The drills were contributed by Dennis Hopkins from the Basketball Coaches Association of Michigan Coaches Clinic.
Purpose of the drill is to work on keeping ball out of the lane without fouling and contesting layups without fouling.
Michigan Breakdown Defensive Drill
Guard starts with the ball in the lane and begins the drill by rolling the ball out to the perimeter wing.
1. Closeout properly with choppy steps and hands high. Mirror the ball.
2. The guard ties to drive to the middle. Defender walls the ball handler.
1. On the pass to the corner the defender quickly positions himself in help side defensive position.
2. On the drive by the corner, he must block out the weak side post.
Michigan Walled Layups
1. Coach is positioned in the help defense spot of the drive.
2. Offensive player puts the ball on the back of the defender.
3. When the ball is moved, the play goes live with the offense driving the pre-determined line.
4. The defense is trying to wall up the offense and contest the layup without fouling.
5. Run the drill to both sides of the floor.
Run the drill on the baseline as well and on both sides of the floor.