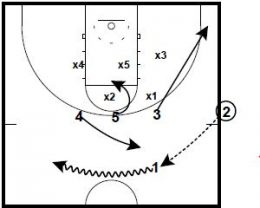 A couple of plays to run from a sideline inbounds situation against a 2-3 zone.
With a few tweaks, you could also use these as half court set plays against a 2-3 defense.
These plays are from Wes Kosel's Playbook "Best Zone Sets from the NCAA Season."
You can get any 2 playbooks from our online store for $25 at this link:
Michigan SLOB Zone "Chicago"
2 passes in to 1.
5 moves to the high post and 3 to the corner.
2 cuts to the opposite corner and gets a hand off from 1 on the left wing.
5 sets a screen on x2.
2 passes to 4 who passes to 3 on the wing.
1 runs the baseline to the corner for a shot.
5 rolls into the lane.
Coastal Carolina SLOB Zone Runner
1 inbounds the ball to 2.
4 slides below the free throw line.
After inbounding the basketball, 1 cuts all the way through to the opposite side.
2 dribbles toward the side that 1 is cutting to, then reverses direction with the purpose of getting x2 to guard the ball.
4 and 5 screen the zone defenders as 3 cuts off their screens for a shot.