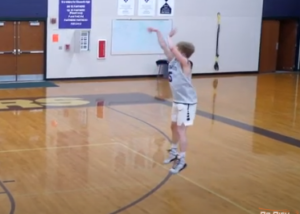 I am a firm believer that what gets measured gets emphasized, and that what gets emphasized will improve.
It is also my belief that a simple box score and traditional practices statistics do not provide information that truly allows you to evaluate your team's or individuals performance, nor do they server as a useful tool to measure progress and improvement.
The purpose of this post is to stimulate some discussion for your coaching staff and find a way to identify and implement one improved piece of numerical data to track and emphasize in practice and one piece of data to track and emphasize in games.
I believe that there are no perfect statistics and that they should be used in conjunction with the judgement of the coaching staff. The value of what you measure will be determined in large part by what you feel your team needs to be good at and be better at.
Your statistics and analytics must fit the follow criteria:
1. Meaningful to your system of play. If you play a packing style of defense, then tracking steals is not that helpful. It is good to post the stats you keep, but the ones that will truly make an impact are the ones you address and illustrated how they impact your play.
2. Can be tracked using your available resources. As Coach Meyer taught, "You can do anything you want, but you can't do everything you want." Prioritize what will have the biggest impact on your squad and find a way to make it happen with your available staff.
I am a firm believer that what gets measured improves.
3. Be able to be understood, digested and acted upon by your players and staff. To avoid information overload, I recommend not giving players all of the stats that you keep–just the ones they want to know and the ones that you want them to know.
4. Consider measuring process statistics as well as product statistics. AS an example, If you emphasize rebounding, chart block out percentage and times your rebounders go to the offensive glass along with total rebounds. Or, in addition to assists, chart "set-ups" where a player gave a teammate a pass that would have been an assist had the shot been made or had the player not been fouled.
For practice:
I am not suggesting you you can do all of this, but I am going to give you a system that the Xavier Men's team uses to measure practice performance and provide motivation.
You might not have the resources to do all of this, but hopefully it sparks an idea for something you can do to improve your practices. Develop your own scoring system will add to the value for your group.
One idea would be go award points for hustle plays–being the first to the floor on a loose ball, talking on defense, or any other play that you deem to be what you are looking for when it comes to playing hard.
If you want to implement something like this, you can always start small on a trial basis and expand as you go.
During the week of practice, their players accumulate points based on the following scoring system:
Points are awarded in all live action whether it is a drill involving offense and defense or a scrimmage situation.
Two Point Field Goals (+2 for a make, -1 for a miss)
Three Point Field Goals (+3 for a make, -1 for a miss)
(+1 Point) for each Defensive Rebound, Block, Foul Drawn, Team Win, Team Free Throw Win, Deflection, Coaches Choice–for an outstanding play not mentioned or just something that needs to be emphasized.
(+2 Points) for each Offensive Rebound, Assist, Charge Drawn
(Negative 2 Points) Turnovers, Fouls
IMO, Poor body language should also count as negative points, but I realize you can't do it all.
At the end of the week, the player with the most points is awarded a gold colored practice jersey at that week's "Practice Player of the Week" for the next week's practice.