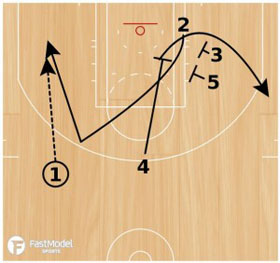 These plays were run by the Chicago Bulls in Fred Hoiberg's first regular season game as Head Coach. The plays are featured posts in the FastModel Sports Basketball Plays and Drills Library.
You can also find out more about FastModel Play Diagramming software by clicking this link: FastDraw
Note: The numbers are to distinguish between the 5 different players on the floor, not to say that you have to put a traditional "5" player (i.e. center or post player), or a traditional "4" player (i.e. power forward) in those spots if you run the play. If you need a 3 point shot, at the end the game, IMO it is better to put 5 players who are dressed for the game that give you the best chance of accomplishing that.
Note #2: The purpose of this post is not to say that you should run this exact play. But, I hope it does motivate some discussion and thinking among your coaching staff as to how you can possibly incorporate some of the actions in this play to your team's end of game situations, or as to what you can do to counter teams that switch everything at the end of the game in this situation.
The plays were submitted by Jon Giesbrecht. Jon is currently an assistant coach with the University of Winnipeg Men's program. Jon is also an assistant coach with the 17U Male Provincial team for Team Manitoba (Includes National Championship 2013-14).
Chicago Bulls: Hawk Slip ISO
With a guard to guard switch, the Chicago Bulls attack this coverage with slipping their 2 man (Jimmy Butler) for a jumper or isolation. The Chicago Bulls ran this play against the Cleveland Cavaliers.
4 sets pin-down screen for 2, 2 sprints into wing ball screen for 1. 2 slips the screen, after 4 sets screen for 2, 4 runs off double screen from 5 and 3.

Chicago Bulls: Dribble Weave Step Up
Bulls ran this quick hitting action against the Cleveland Cavaliers… The Bulls were able to get Butler a drive to the basket off of the step-up screen.
1 (Rose) dribble handoff with 3 (Butler), 3 dribble handoff with 4 (Mirotic).
3 continues to cut after handing ball off to 4, 4 reverses to 3 on the move… 5 (Noah) sets step-up screen for 3.