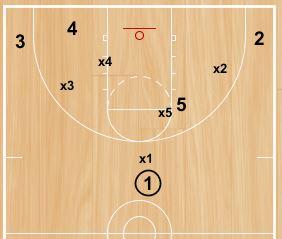 Smother Defensive Drill
I received this drill from Creighton Burns
This 5 on 5 defensive drill allows you to work on defending the following actions
1) High Pick and Roll
2) Side Pick and Roll
3) Step up Pick and Roll
4) Dribble Handoff
The purpose of this post is to give you a system for practicing defending on ball screen and hand off movements in the manner that fits your defensive system by having the second unit run this pattern. It is not to tell you how to defend them
As with everything I post, my main objective is that you will find a way to adapt this drill to fit the needs of your team, or to create a similar drill that is even better for you.
In my opinion, it is a very good way to be able to work on defending ball screens 5 on 5 to be able to get help positioning and rotations down.
Diagrams created with FastDraw
The drill is a 5 on 5 drill with an emphasis on defense.
The offense starts out with the point guard with the ball in the middle of the floor
#5 can start at either elbow.
#2 and #3 are in the corners.
#4 starts in the short corner
5 sets a middle pick and roll for 1
4 cuts to the deep elbow opposite 1 and receives a pass from 1.
5 relocates to the block.
3 cuts to the free throw line extended and receives a pass from 4.
4 sets a side pick and roll for 3.
3 dribbles to the middle and passes to 4 as he rolls.
4 skips the ball back to 1.
1 reverses the ball to 2 who has cut to the free throw line extended.
4 returns to the top.
After 1 passed the ball he cuts to the corner opposite the ball.
5 sprints out to a step up ball screen for 2.
2 drives baseline off the screen.
2 passes the ball back to 4 at the ball side deep elbow.
4 dribbles back at 2 for the dribble hand off.